Hello! I am very proud to say that I was a Fabulous Feature at
Tiddly Inks
last week with my Minnie card. Hooray!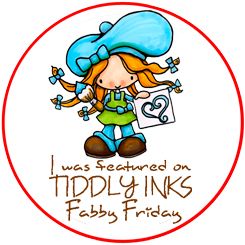 Today I am sharing another Christmas card with
Little elf Mim
by Mo's Digital Pencil. I bought this stamp last year but didn't get around to using it, so it is making a debut in 2013! At the time, Make it Crafty had a colouring challenge on muscle definition, so I thought I would give it a go. After some rather hilarious comments about my body building elf from the fabulous group on the Facebook fan page, I managed to tone it down a bit so it was card worthy. Here is the before and after:
And here is the finished card. I managed to use up lots of scraps from my stash for this one, including the berries which were part of last year's xmas present packaging!
I made this card for my Nanna, and to go along with it I altered a photo frame (my first ever!) which I thought I would quickly share with you. This is Mum and I in Scotland from our recent holiday.
Christmas is always my busiest time of year for crafting. I feel that because people know I make my own cards, that I can never get away with a store-bought card or tag, so I always stress myself out trying to make lots of cards in a short amount of time. This year I cut the list down quite short, and luckily for me I am all done now (with 3 days to spare!). Thanks for stopping by!
I would like to enter this card into the following challenges:
Mo's Digital Pencil -
#224 Favourite Mo card
Chocolate, Coffee and Cards -
#54 Happy Holidays
Emerald Faeries -
#50 Christmas!
Inky Chicks -
#19 Christmas
Cute Card Thursday -
Celebrations